Daytime Confidential's Top 10 Most Improved of 2008
By Daytime Confidential on December 19, 2008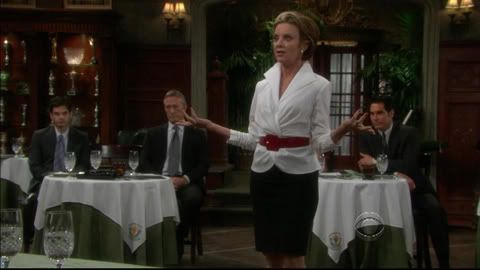 No. 7: Judith Chapman - The Young and the Restless
Lynn Marie Latham's reign of terror at The Young and the Restless will be remembered for many catastrophic occurrences - the dismantling of the Abbotts, the reliquary nightmare, the Clear Springs debauchery, the (gasp) removal of fireplaces, diamonds and furs - but there was no greater crime committed by LML than having Judith Chapman onscreen five days a week chewing up every piece of scenery she could find as Gloria Fisher Abbott Bardwell Bardwell. What a difference a year makes.
With the show now in more capable hands, Chapman's storylines have been balanced out and her over-the-top performances mercifully toned down. This phenomenon has allowed the veteran actress to showcase nuances and brave choices that had been lost in drag queen camp and cartoonish vitriol.
Chapman's work opposite Michael Gross as Gloria's first love Lowell (aka River) has shown the character's human side and Chapman's impressive range this past year on The Young and the Restless. Her delicious scheming and Baby Boomer sexcapades with Ted Shackelford's Jeffrey have been surprisingly humorous and entertaining. Even her critics - and trust us she had several here at DC - had to stand up and cheer during Chapman's tour de force performance as Gloria revealed to a stunned Jill (Jess Walton) and Cane (Daniel Goddard)—okay, Cane's pretty much always stunned, so I guess he doesn't count— that the Abbotts were back in control of Jabot. Brava Ms. Chapman, we knew you had it in you!