Twists & Turns
By J Bernard Jones on November 19, 2008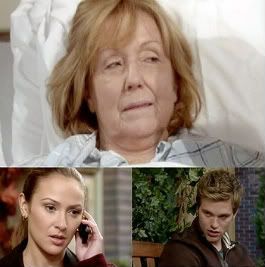 While
The Young and the Restless
and
One Life to Live
are the two must see soaps on daytime right now, our schizophrenic
As the World Turns
is firing on most of the right cylinders and can't be counted out of the fight. The last time I posted about ATWT, I had a great many concerns about the direction of the show and it's storylines given the supersonic speed by which they are told. In the last week however, the show has made me sit up and take notice with some interesting developments.
On the plot front, the mystery of Josie Matthews Driver continues to deepen in a way that is truly starting to be creepy-fascinating. Kristin Connolly is walking the tricky tightrope of this role as written just right: the addition of a little flirty-flirty with Dusty after his kiss and a dash of contempt for Paul and Emily in the immediate aftermath of the faux-bribery was a good touch. She's no Jennifer Ferrin (who is great right now on Life on Mars), but Connolly isn't supposed to be the former actress or the character of Jennifer either. At least not yet. The possibility that Josie is related to characters from Another World continues to intrigue.
The Carly/Lily/Holden dynamic is still way too weird given the emotional toll Carly's affair with Holden took on everybody just a few weeks ago, but since the show has moved them past it, I have too. I do like the realistic beats being played in Sage's lie that Janet struck her, the subtext of which resonates through Parker & Liberty's odd relationship, Janet's insecurities and Carly's feelings for Jack.
Meanwhile, the Spencer/Brad/Katie story seemed very played out and overcooked until it took a delicious turn when it was revealed that a) Spencer is alive and b) Dani Andropolous is apparently behind it all!
Dani was a liar and troublemaker as a teen and this turn of events makes perfect sense for her as an adult. Also good is how a lot of the events line up: Dani arrived in town the exact same time as Spencer; it was Dani who "discovered" Spencer's supposedly dead body missing from the morgue and Dani has been working the murder case. Not a week ago I was scratching my head, but as of now I'm very interested where this tale goes. Is Dani just trying to prop up her own career? Does she have a vendetta against Brad..or Katie? After all, Dani is a Stewart woman and it was only a matter of time before those crazy Stewart genes kicked in. Deirdre Skiles is starting to grow on me with the revelation. I give head writer Jean Passanante hell all the time, but this twist was very inspired. (Continued)