Peyton List on Mad Men
By Luke Kerr on October 07, 2008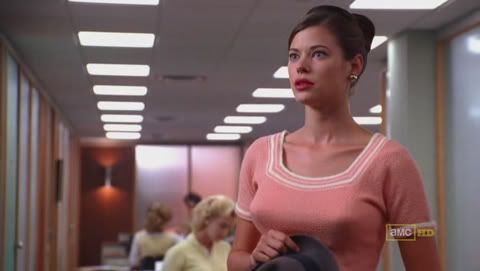 Grayson McCouch's
return to
As The World Turns
as Dusty Donovan is shaking up Oakdale as Emily (
Kelley Menighan Hensley
), Lily (
Noelle Beck
) and Alison (
Marnie Schulenburg
) fall over themselves to jump his bones. However, it wasn't any of these three characters that set fans on fire a few years back when paired with Dusty. It was
Peyton List's
Lucy Montgomery.
List, who left ATWT in 2005 to seek stardom in primetime, has yet to land a"breakout" role that would rocket her onto the covers of celebrity magazines and splash her name all over the evening entertainment news shows, but unlike many daytime starlets who seek fame and fortune in Hollywood and fail, Peyton has been one busy girl.
In the three short years since since leaving Oakdale, Peyton has appeared on Smallville, Without a Trace, CSI: New York, One Tree Hill, Windfall, Day Break, Big Shots and Moonlight. This fall she's appeared in at least four episodes of AMC's Emmy winning Mad Men.
List's success doesn't bode well for "Lusty" fans, who would like nothing more than to have her return as Lucy to heat up TV screens with Dusty. Check out pictures of Peyton List on Mad Men after the jump.