Ethan in a Hole
By J Bernard Jones on September 19, 2008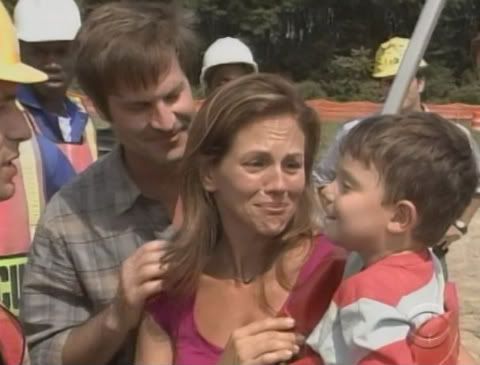 Ethan-in-a-Hole is that rare soap opera event story told right: a sprawling umbrella story that encompassed most of the show's cast and storylines.

Although I don't watch the show on a regular basis, TheYoung and the Restless apparently struck umbrella story gold with the deaths of David Chow and Sabrina Newman. One Life to Live's 40th anniversary's 1968 time travel story was met with mixed reaction, while viewers and critics almost universally revoked Mendorra's diplomatic immunity. And Days of Our Lives, which was once the master of the umbrella twirl, has become drenched in incomprehensible excess more often than not recently. Only General Hospital does big umbrella stories on a regular basis, but these are more sweeps related stunts that often have limited repercussions after the requisite number of cast members who didn't renew their contracts or were fired have been killed off.

What made Ethan-in-a-Hole so genuinely interesting (at least to me), is that rather being an isolated event existing outside of the continuity of ongoing stories, the week long arc managed to incorporate several disparate storylines under one umbrella without any losing their momentum. Carly found herself on the outside after unselfishly (!) urging ex-husband Jack to give Janet another chance, while later stumbling on current lover Holden getting some rest next to Lily at the rescue site. Mike, who has been sleeping with and developing feelings for Lily, watched helplessly as she and Holden grew closer while he coordinated the rescue effort. Derek (a terrific Benton Greene) was revealed to be a pawn of James Stenbeck. There was a little forced comedy between Vienna and Bonnie (whose sad little catfights I am thoroughly sad to say I thoroughly enjoyed simply because they were so ridiculously campy), and Henry played McGyver...or as it turned out, more like Saturday Night Live's MacGruber by almost blowing himself up in his rescue effort of the two ladies. And James Stenbeck's master plan was finally revealed: all of his efforts were to maneuver Paul into a position where an unwitting Meg would be forced to give up her child to him so that the baby could be the next Stenbeck heir. How very Helena Cassadine-ish of him! And ironic since the only true Stenbeck around is Dusty Donovan...
Great production values really aided the proceedings this entire week. In my opinion, everything really worked from a production standpoint. There weren't OLTL-level crowds of extras and bells and whistles, but executive producer Chris Goutman did an great job with the outdoor construction site set that looked very realistic, as well as what must have been a herculean task of editing the disparate parts of this week's worth of stories together, something that doesn't get enough credit from soap fans. Given the budget crunches faced by the P&G soaps, Goutman deserves a lot of credit for pulling off everything from the resevoir scenes with Derek and Paul to the special effects involved in the two collapses of the hole.
There were lots of hits, like the Snyders coming together in prayer. And there were quite a few misses: at the risk of a very bad joke, why is everyone always trying to put Meg to sleep? Who is she, the Ghost Whisperer? And to hear Faith lament for the 947th time that she was responsible for Ethan's predicament because she was nattering away on the phone made me want to throw her into the hole after the tot. Yet, seeing Colleen Zenk Pinter rush into the mix today being Simply Barbara almost made up for any small trangressions.
BEST ELEMENT: Anything that involved Carly this week. She had her own mini-arc within the larger stories and where she comes out of the developments mentioned above starting next week will be interesting to see play out.
BIGGEST SHAME: The firing of John Prescott as Mike Kasnoff. Though Mike was unfocused during much of his return to Oakdale, for my money, Prescott really came into his own with Mike's fling with Lily and his performance during Ethan-in-a-Hole. Another in a long, long line of talent and potential talent wasted by ATWT.
MOST LAUGHABLE DEVELOPMENT: It made sense that if the gold existed, then James would dig a tunnel to transport it to and from its hiding place, but the way Derek just walked into the hole with Paul was filmed and staged in a way made me giggle. A lot.
While not quite rising to the thrilling level of General Hospital's week long Metro Court hostage crisis or Y&R's crash aftermath, Ethan-in-a-Hole was a strong, solid, family-based drama that used its location work to greatly enhance the story being told.
Ellen Wheeler, I hope you are taking note of your sister soap's efforts. After the Josh-Not-In-Afghanistan debacle on Guiding Light this past week, you need to start paying more attention to what your colleague is doing.