Rosie O'Donnell Quits Blogging!
By Regan Cellura on July 31, 2008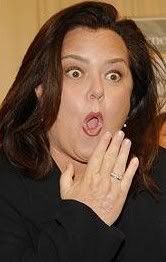 According to
People.com
, former View co-host Rosie O'Donnell is taking a break from her super popular blog at
Rosie.com
. Fans immediately took to Rosie's haiku form of blogging and that's exactly how she told her fans she was taking some time away from the computer to be with her family.
i am taking off august
in blog-ville
2 c if i can
rosie unplugged
happy summer peeps
peace in
peace out
The comedian also gave People a comment on her time off of the keyboard. Saying "I'll take the month off and then see what it feels like to come back to it."