On the Stands: Have Soaps Gone To Far?
By Luke Kerr on April 11, 2008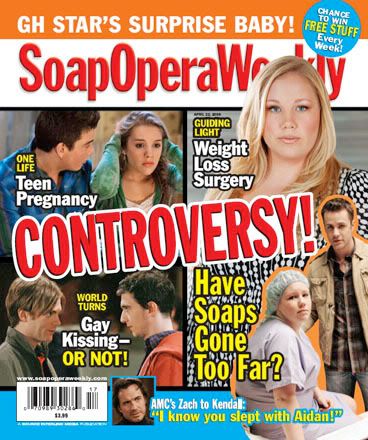 Have soaps gone too far? That is the question that
Soap Opera Weekly
is asking on this week's cover. I think
As the World Turns'
Nuke (Luke & Noah) fans would argue that their show hasn't gone far enough by allowing the characters to kiss once again. Instead
As the World Turns
has resorted to
3-year-old antics
.
Then there is One Life to Live's pregnancy storyline involving fan favorite Kristen Alderson's Starr who we've watched grow up on screen. We discussed this topic on this week's ABC edition of Daytime Confidential and here on the blog. Obviously the age of the actress and character is a mitigating factor that has caused more than one raised eyebrow amongst fans. The jury is still out on how this will all play out.
Now we have Guiding Light's latest attempt at telling a socially relevant storyline. Telling the story of an individual who is insecure with being overweight and needing the assistance of a weight loss surgery has the potential to be one of the most gripping and socially relevant storylines to come out of Guiding Light , possibly daytime, in some time. Anyone who has watched the show knows that Caitlin Van Zandt is a gem of an actress and more than up to the challenge of story. If told right this story has the potential of garnering Van Zandt an Emmy nomination next year.
The question is, is Guiding Light up to the challenge or will they go to far?