On the Stands: Double Whammy
By Luke Kerr on April 11, 2008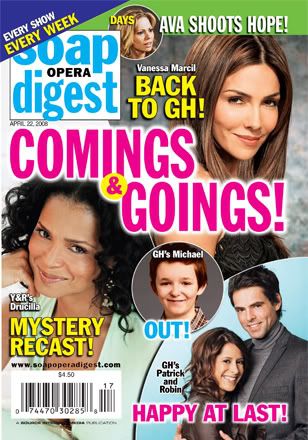 No Whammy! No Whammy! Talk about a double whammy cover. Soap Opera Digest is going all out this week with two of the biggest former daytime stars on ABC and CBS on its covers.
Up first we have Vanessa Marcil who we know is a sure bet when it comes to boosting General Hospital falling ratings. Then we have have Young and Restless' Victoria Rowell who it has been rumored could return very soon, but the mag talks about a mystery recast. However, in today's Suds Report Nelson Brano sheds some further light on the topic asking why Y&R is casting a Dru look-a-like?
When I read this my first thought is could this be an All My Children Di/Dixie story? I loved Kelly Giddish as Di Henry on All My Children and I realize that long time Y&R fans may have no desire for yet another "doppelganger" type storyline but I'm not sure I'd be opposed to it. Especially if the #1 rated soap does it right and doesn't ruin it like All My Children did.
Of course we also have one of General Hospital's most popular couples on the cover with the headline "Happy At Last". Normally, this would make me ecstatic but considering I read our own General Hospital Spoilers and Scoop by the wonderful Regan one knows that it probably won't last.