On the Stands: "We Didn't See It Coming"
By Luke Kerr on February 04, 2008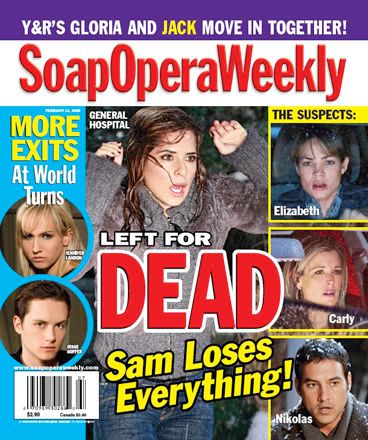 Well its time to take a look at this week's magazine covers. I'll probably end up regretting saying this but the moment I saw the cover of Soap Opera Weekly I inadvertently started humming "Grandma got ran over by a reindeer" except it was more along the lines of "Sam got ran over by 4x4". I know, I know, such fantasies are futile but I'm just being honest.
Moving on to more somber topics. 2007 may not have been Jesse Soffer or Jennifer Landon's most stellar year in terms of storylines but they will be missed if they do leave As the World Turns.
Of course I can just imagine how many emergency rooms filled up when Young and Restless fans had coronaries from the thought of Gloria moving back into the Abbot mansion. Let's hope that they and she has medical insurance because for some reason I have a feeling she's going to be in for a bumpy ride (no puns intended) living with Jack.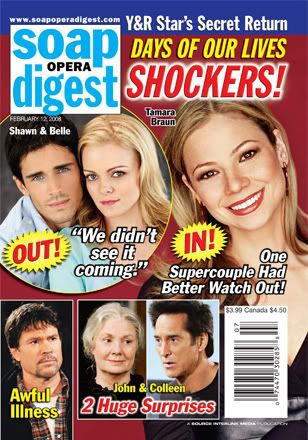 Soap Opera Digest may quite possibly have the understatement of the year on their cover in the form of the quote from Martha Madison and Brandon Beemer. "We didn't see it coming." No shitaki mushrooms Sherlock. No one saw that coming. In fact I'm not sure that anyone could have predicted last November when Martha Madison put in her best work to date that she'd be fired the following January. Days of Our Lives is getting an ugly reputation for renewing actor contracts and then firing those same actors a short time later.
So what is everyone thinking of Shirley Jones so far? Personally, I'm impressed but John's fingering the knife in every other scene is a bit much if you ask me.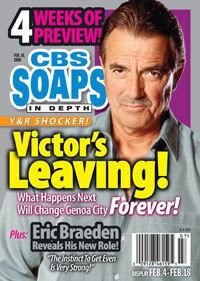 "Victor's Leaving!" Sure he is. Probably because Eric Braden is going on vacation or has a side role in the works. Not really so shocking when you think of it that way is it? Personally, I'd be more interested to see a cover with Jeane Cooper on it to help clear up these rumors about whether or not Katherine Chancellor is going to be killed off we're hearing. Now that would be a headline.