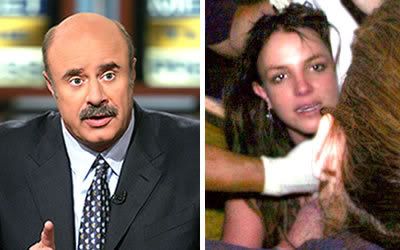 I know it is absolutely, positively Britney's top priority to make it onto DaytimConfidential.com when she has so many other less "important" blogs to make it onto, but she has finally achieved this momentous career goal.
Well now, thanks to Dr. Phil, Britney has officially made Daytime Confidential news. Apparently Dr. Phil inserted himself into the Britney saga after her latest breakdown, by going to see her in the hospital. This is his quote.
"My meeting with Britney and some of her family members this morning in her room at Cedars leaves me convinced more than ever that she is in dire need of both medical and psychological intervention. She was released moments before my arrival and was packing when I entered the room. We visited for about an hour before I walked with her to her car. I am very concerned for her."
Of course what he left out in the statement is that he tried to get the Spears family to do an intervention on his show and then it fell through. Hmmmmm....I wonder why that happened? Could it be that the family caught a whiff of opportunism in his motives or that they realized he hadn't been in the headlines for at least a month and needed a boost? He did tell Entertainment Tonight the following.
"Because the Spears situation is too intense at this time, and out of consideration to the family, I have made the decision not to move forward with the taping at this particular time. Britney and her family are in our prayers and we ask that they be in yours."

Do like or loathe Dr. Phil?